The internet of things leads to a high transparency regarding the status of the supply chain and its nodes. At the same time, the amount of information increases rapidly with the automatic acquisition of data/events.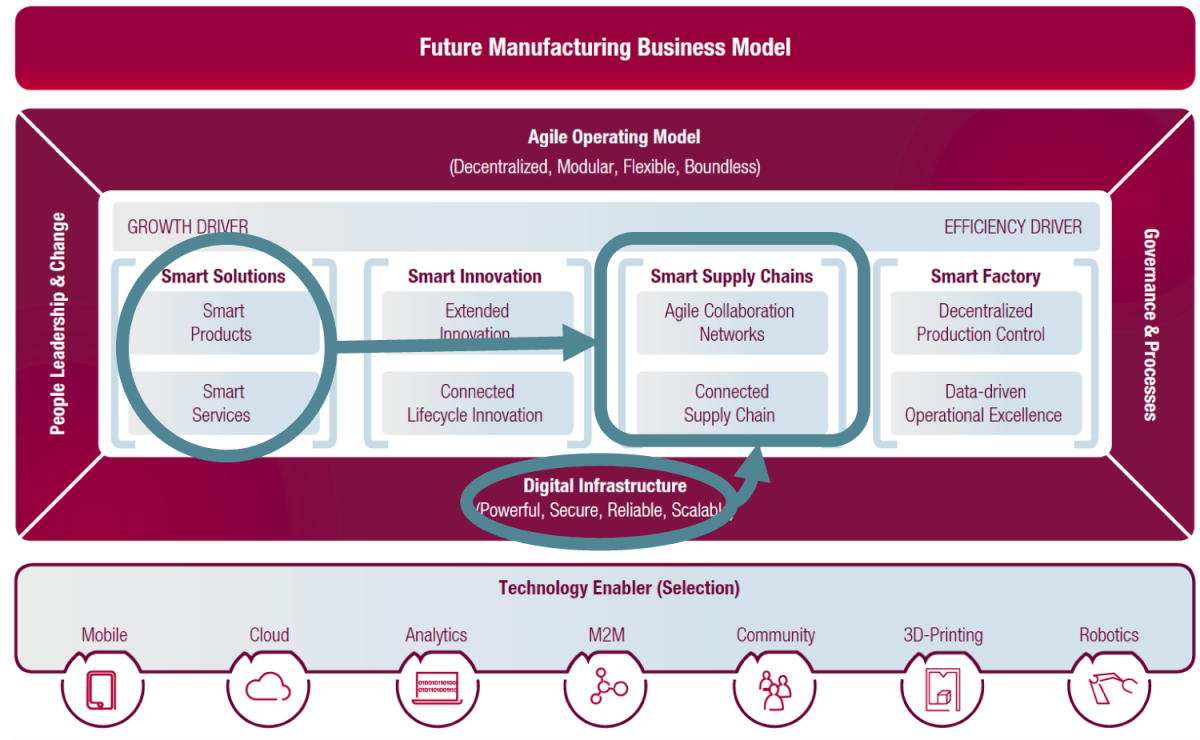 Standardized event information in high quality can be distributed within the supply chain with methods of the internet of things. But: transparency is not enough; the right solutions must be applied in the field of logistics in order have "Smart logistics".
SMEs need to:
embrace smart services and smart products within Logistics;
derive a technology-driven approach, thereby subject to change;
free humans from (control) activities that can be delegated to smart products and services;
facilitate state-of-the-art (innovative and available) data processing;
integrate existing logistic technologies, such as material handling systems, and enable these to react and act in a correspondingly smart manner;
include state-of-the-art billing, payment or licensing as integral component.

Shift in horizontal integration towards a flexibly defined extended enterprise

Enabling manufacturers to focus on core competences yet allowing them to offer customized products in any market.

Rigid collaboration structures replaced by project-based business partnerships, to leverage opportunities from the globalized marketplace of skills and capacities

Interfaces between companies' organizational structures, processes and IT as well as standardized, portable data formats as key enablers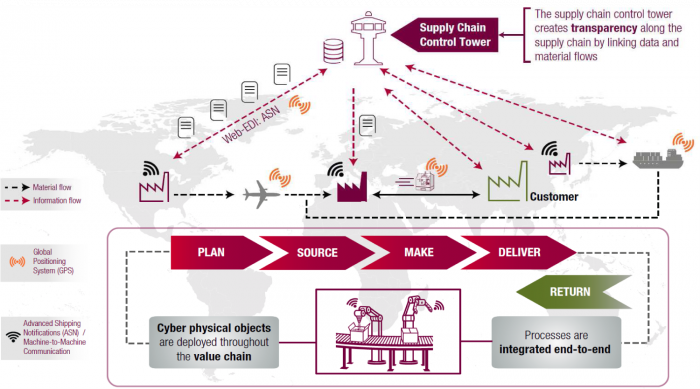 Supply flows on a virtual level, allowing the seamless integration and automation of physical processes and providing companies with increased transparency. In order to manage the growing complexity of supply chains, physical flows have to be mapped continuously on digital platforms. RFID-tagged raw material and work pieces, generate data about goods' positions or states – in real-time, on multiple levels of aggregation. Pull processes and one-piece flow managed in digitally enabled supply chains should be adopted.